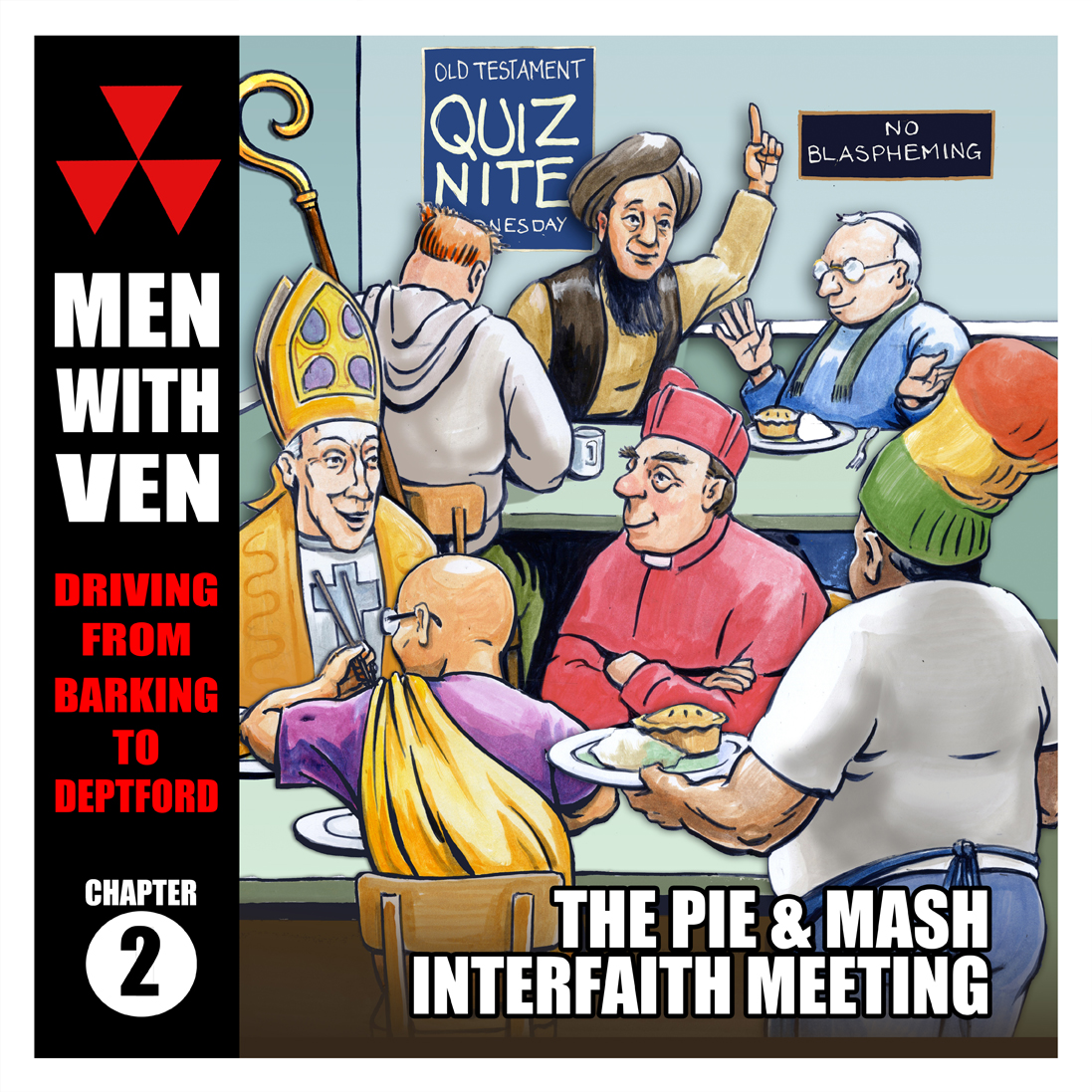 CHAPTER 2
THE PIE AND MASH INTER-FAITH MEETING
Ethelburga and Freya are brought back to life by the petulant teenage sorceress Vivien who immediately curses them to an eternal life of battle.
Bill Dave & Carl drive by the old Upton Park and complain abut the new developments going up around the East End.
Frieda and Oddman discuss their business model for their property empire.
The lads take their van Gloria for a surprising makeover at Spaceman Jack's garage in Canning Town.
Ethel confides in Viv about her past.
Dave gets some spiritual advice at Mo's Pie & Mash Interfaith Meeting and the lads go time-travelling in their modified (sic) Transit (Gloria).
Carl sees his long dead mother.
Songs:
The Curse
Driving From Barking To Deptford pt2
Slumlord
Deptford Market
Brand New Universe
Kiss It Better
Driving From Barking To Deptford pt3
A Men With Ven production. Produced and Directed by David Barratt. Written by Men With Ven Co-written by Jo Gardetta & Neville Farmer Additional writing by Steve Graham & Fenella Fudge. Songs by Men With Ven. Men With Ven are Bill Clift, David Barratt & Carl Marsh Driving From Barking To Deptford was recorded at The Abattoir Of Good Taste in Barking, Deptford, Birmingham, Stockholm, Bangkok, New York and Whitstable in 3D Vensound. Bill was played by Bill Clift Dave - Shane Attwooll Carl - Mark Arden Ethel/Ethelburga - Kerry Enright Frieda/Freya - Sarah Lonton Viv/Vivien/Gloria and The Parrot were all voiced by Fenella Fudge The Narrator - Amanda Homi. The Missus - Anita Dobson. Jason Statham was played... Spaceman Jack - Roy Harter. Odin - Christopher Brand. Barry The Burglar - Nick Wilton. TV Announcer - Daniel Norcross. Imam Amir - Aatiff Nawaz. Chance - Kenyon Phillips. Sir Mortimer Planno - Daniel Whalgren. The Dave - Dave MacDonnald. The Carpet Salesman - Steve Graham. Julius Ceasar - Ron Emslie. Carl's Mum - Liza Marsh. Cindy Wachowski - Fiona Foster. Children's Choir - Lyla Attwooll. The Archbishop and Oddman - David Barratt. The Vikings were played by John Rogers and Harry Feeney-Barratt. All music played by Men With Ven. Additional Songwriters - Bryn Burrows, Neville Farmer, Terry Radigan, Phil Johnstone, Rev Hammer & Papa Dee. Additional musicians & singers - Bryn Burrows, Justin Mitchel, Jenny Woodall, John Woodall, Isobel Kimberley, Gary Schreiner, Neville Farmer, Jody Porter, Ava Attwooll, Poonam Gupte, Geoff Wooley, Ronnie Rumble, Kat Parker, Phil Johnstone, Terry Radigan & Papa Dee. Artwork: Chris How Dedicated to Frances Spring & Rene Marston
www.menwithven.biz